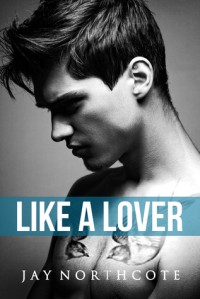 Review originally posted at Sinfully... Addicted to All Male Romance
If you've read [b:Helping Hand|25620337|Helping Hand|Jay Northcote|https://d.gr-assets.com/books/1432847740s/25620337.jpg|45432672] you'll remember Josh as Jez and Mac's openly gay housemate who knew just what to say to help them sort through their issues (if you haven't read it this one definitely works as a standalone). What we didn't know then was that Josh has been paying for school by working as a self-employed escort.
After chatting with Josh at a bar, the seemingly straight laced Rupert is surprised when Josh tells him sex will cost him. Something about the proposition excites Rupert and he agrees. Their night together is the sexy start of Rupert regularly hiring Josh and with every meeting the line between business and pleasure blurs causing complications on both sides. Josh is so laser focused on his plan to get through school without debt it's hard for him to see any other options outside of what he's been doing, no matter what he feels for Rupert. The fact that he hasn't considered having a relationship with someone since he started his business has him blindsided by his feelings for Rupert almost from the start.
There are the expected ups and downs, miscommunications and hurt feelings as the two men each fall harder and hope for more. Both have their own issues and neither one wants to upset the fragile friendship/romance that is developing, but of course that only leads to more problems. One particular scene, when Josh decides things are getting too complicated and he needs to treat Rupert as any other client, was particularly difficult to read after getting so caught up in all the other emotion filled encounters between the two. It all comes to a head when Rupert hires Josh for a weekend as his date for his mother's wedding to a man Rupert doesn't like.
While this is similar to other rent-boy falling for client stories I've read, Jay Northcote again managed to make me really care from the start. Having both Rupert and Josh's points of view definitely helped that along and so did the fact that I already had a soft spot for Josh from the first book. Of course there is a lot of sex in the book and it is smoking! Rupert may come off as a mild mannered IT guy, and is often sweet and tender, but he also knows what he wants in the bedroom and isn't afraid to ask for or demand it.
As Josh struggles to find a solution to his money issues and his growing feelings for Rupert, his housemates Jez, Mac and Dani are all willing to lend some helpful advice, but only Josh can decide if Rupert is worth taking a risk on. Jay Northcote has found a way to consistently write novellas that don't skimp on story development, emotions or sexy times and this is another one to add to that list.