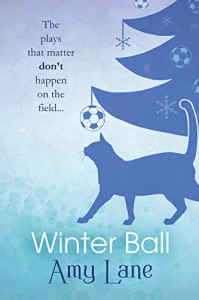 Review originally posted at Sinfully.
4.5 stars
Low angst, plenty of sex, dirty talking, flu-medication induced confessions and a number of holidays made this friends-to-lovers story a wonderful read.
Skipper doesn't have any family. Richie has a dysfunctional family he can't seem to drag himself away from. They've been friends for six years, through tech school and playing in a rec soccer league. One night after practice, while talking in Richie's car and discussing their less than stellar, eerily similar, sex lives, they find out why the women they go out with never seem to turn them on. Skip and Richie enthusiastically embrace that discovery each week, while making sure nobody else finds out, growing desperate for more each time they say goodbye. As the rest of their lives continue, it gets harder to keep things hidden and harder to rein in their emotions. Skip fears losing the friendship of his team and being alone, while Richie fears losing his father if anyone was to find out. Of course "if" becomes "when" and although not everyone reacts the way the men expected, others don't fail to disappoint.
The two men have such a great connection and are so sweet with each other. I loved how they accepted their feelings and the newly discovered side of their sexuality. Their relationship moved forward so naturally, that almost immediately, Skip and Richie are making a home and family together without even realizing it. Skip is so in love with and so devoted to Richie, he can't help but fear that Richie doesn't feel as strongly and he worries that Richie will allow his family to tear them apart.
The biggest stumbling block in their relationship is Richie's incredibly vile family, made up of his father, his father's wife and her two sons. Richie's feelings for his father are complex and his inability to tear away when the whole family treats him so poorly was a bit confusing at first. Since we don't get Richie's POV, sometimes his true feelings were a mystery. I always knew how he felt when he was with Skip but when text messages weren't returned and Richie wasn't there, I was often wondering right along with Skipper.
There are some great secondary characters, first and foremost Carpenter, Skip's co-worker and newly inducted soccer league teammate, who helps Skip learn how to build the family he needs. Then there is Mason aka Skip's mysterious Gentleman Caller/sexual harasser who turns out to not be quite the creeper he first comes off as. There is also the soccer team that has been together for six years and who Skip fears would not accept him as their leader once they find out he is gay.
This is a sweet, touching story with plenty of humor, sex that spans from tender to dirty, and a range of emotion that should satisfy anyone looking for a good character driven romance, especially friends-to-lovers fans.