Reviewed for Sinfully.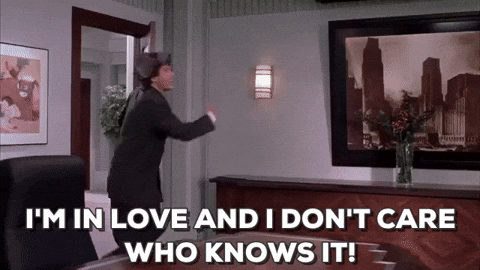 This story brought me so much joy and happiness. If I told you everything I loved about this book I'd basically just be retelling the whole story. I was immediately drawn in and practically read it straight through with a smile on my face most of the time.
Red-headed, bow tie wearing Bowen Merlin is the new music teacher in the small town of Lancaster, NH (which may be familiar if you read the author's novella Joy). Bowen has sound-to-color synesthesia, which allows him to see the color of music and voices. Spilling hot cider on the gorgeous Felix Hansen isn't the best way to make a first impression. He's immediately drawn the beauty of Felix's voice and its amber color, not to mention the man himself. Bowen's insta-crush is strong and he's pretty dejected when Felix rejects his offer to go for a drink.
Felix comes off a bit shy but he quickly recovers and finds a way to let Bo know he's interested. This is just about the time Bo finds out one of his new students is Felix's son and that there is something in Felix's past that has left him scarred and unsure, so much so he hasn't dated in years. Bo is shocked to realize that with this man, none of it is a deal breaker. Bo has always been looking for a more submissive man, the kind he's usually stereotyped as, but someone who can be an equal in all other ways and it quickly becomes clear that Felix fits the bill perfectly.
As the days to Christmas countdown, the men juggle their jobs and their budding romance. I enjoyed every moment these men spent together, even when they weren't in the same room – cute texting and some smoking phone sex included. They communicate well, they have fun and they have crazy hot chemistry. There's dirty talk and just a touch of kink and it sizzled, but there was also plenty of romance and sweetness. Neither of those two is lacking when it comes to romancing each other and though the relationship does move pretty quickly, it all played out naturally.
There is a good cast of secondary characters including Felix's 15 year old son Alan, Bo's best friend Scarlet, and his new coworker Stephen. There are also a few appearances by the men we met in Joy who join forces with the others to help out Felix and Bo. Although things got a bit "Scooby crew" when it came to figuring out who was out to get Felix and there was a villain who was almost too stupid to be a functioning adult when it came down to it, I mostly didn't care because I was having so much fun laughing at their banter and enjoying the group pulling together and becoming a family of friends.
In the true holiday spirit, their friends and neighbors rally around Bo and Felix in their time of trouble to help save the day. With a sweet epilogue set a year later the book left me with a smile and possibly a happy tear or two.
C.S. Poe hit all the right notes in this story and it completely charmed me from the first page. Sweet, sexy, romantic, fun and tender, with a touch of holiday spirit. I would love to see more of Bo and Felix in the future. I know there's at least one more man in the story who deserves his own happy ever after.